Design and Assembly Challenges of BTC
About This Course
Bottom Termination surface mount Components (BTCs) go by various names such as QFN, DFN, SON, LGA, MLP, and MLF, which utilize surface to surface interconnections. BTCs are like BGAs which also have hidden terminations, but they are also very different. BTCs do not have spheres but rather metallized terminations or pads underneath the package. This minor difference in the physical I/O shape makes all the difference in design, assembly and rework between BTCs and BGAs.
Since there are no leads or balls in BTCs to take up any slack from package or board warpage, you essentially need perfection in design and assembly process. When was the last time you saw every thing perfect on any manufacturing floor?
One must also keep in mind that these parts are not the only components that must be mounted on the board. Look at any board. It will have other packages such as BGAs, fine pitch and even some through-hole components; and those components have their own unique design and assembly implementation requirements. So designing for BTCs may involve trial and error and lot of frustration by many companies. Additional frustration is caused by fast-paced changes in packaging technologies and the advent of Lead Free has compounded the designer's task.
When it comes to inspection, BTCs pose even more challenge than BGAs. What you may see in visual inspection may look bad but may really be acceptable. And what you don't or can't see may really be critical. And the fact that the Process Engineer must worry about both too much solder and too little solder on the same BTC package makes the quality engineer nervous about field returns.
The objective of the course is to get away from the trial and error approach and provide you successful design and process practices commonly used by the industry. This course will cover the practical details of BTC design and assembly processes.
This course is based on Surface Mount Technology: Principles by Ray Prasad and Practice and IPC 7093 Design and Assembly Process Guidelines for BTCs also co-chaired Ray. This course identifies many of the characteristics that influence the successful implementation of robust and reliable BTC assembly processes.
This is not a theoretical course. It s based on Mr. Prasad's over two decades of experience at Boeing, Intel and numerous clients and deals with "real-world" problems in lead free and tin-lead BTC implementation.
How You Will Benefit
After completing this course you will be able to:
Get an overview of various types of BTCs such as QFN, MLF, LGA etc followed by Technical details on BTC design, assembly and reliability issues.
Troubleshoot BTC design and manufacturing problems.
Get a handle on two most critical issues in BTC assembly- solder paste printing and rework.
Learn about the cost effective way to design for both tin-lead and lead free products.
Topics Covered
 Pros and Cons of BTC
 Pull Back Vs Non Pull Back
 BTC Package Manufacturing Process
 Major Design Considerations for BTCs
 Laminates and Surface Finish Considerations
 Land Pattern and Stencil Design Guidelines
 Component considerations
 Assembly Process Guidelines for BTC
 Solder Paste Printing- the Key Process Step
 Reflow Process Guidelines
 BTC Solder Joint Quality Requirements
 BTC Rework Process
 Key strategies in design and manufacturing
Who Should Attend
The target audiences for this course are managers, design, process and quality engineers, and operators and technicians who deal with the electronic design, assembly, inspection, and repair processes. The intent is to provide useful and practical information to those are using or considering tin/lead or lead-free processes for assembly of BTCs.
Anyone in process, quality, manufacturing, design, purchasing and management who wants to get a good understanding of design and manufacturing issues in BTCs for building assemblies in-house or at a subcontractor will benefit from this course.
About the Instructor
Current Job Description
In his consulting practice, Mr. Ray Prasad provides SMT solutions for management action. This includes SMT/RoHS/BGA/BTC assembly vendor selection and qualification, expert witness in legal matters, technical assessment for merger and acquisition and workshops in all aspects of SMT, fine pitch, BTC and BGA. He also helps companies build self-sustaining infrastructure in areas such as in-house engineering and operator training, process improvement and equipment selection and evaluation.
Previous Work History
Mr. Prasad has helped many clients successfully implement SMT/BGA/BTC (Surface Mount Technology/Ball Grid Arrays/Bottom Termination Components) and improve their manufacturing yield. He has developed extensive on-site training for all organizational levels and has provided technical expertise in legal disputes.
Before starting his consulting practice in 1994, Mr. Prasad held key technology positions at Boeing and Intel for 15 years. He was the SMT Program Manager at Intel responsible for developing and implementing SMT for the system products. He also developed and taught DFM and SMT manufacturing courses to Intel engineers. He also managed the Intel PentiumProTM package program for Intel and introducing SMT into Boeing airplanes when he served as a lead engineer at that company.
Awards/Associations
Mr. Prasad is the recipient of SMTA's Member of Distinction Award and IPC President's award for his contribution to the advancement of electronics industry and recipient of Intel's highest award - Intel Achievement Award.

Publications/Patents
Author of the text book Surface Mount Technology: Principles and Practice published by Walter Kluwer Academic Publishers and over 100 papers, Mr. Prasad holds two patents in BGA and is a popular workshop leader for in depth SMT, BTC, BGA/CSP and Lead free professional courses at national and international conferences and in major OEM and EMS companies.
A long time member of IPC, he is currently the chairman of BGA committee IPC-7095 "Design and Assembly Process Implementation for BGA". He is also the Co-Chairman of IPC-7093 "Design and Assembly Process Implementation for Bottom Terminations surface mount Components (BTCs) such as QFN, DFN and MLF. Ray is the past chairman of the Surface Mount Land Pattern (IPC-SM-782, now IPC 7351) and Package Cracking (J-STD-020) committees.
He is a columnist for the SMT magazine and also serves on its advisory board.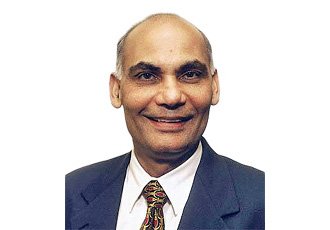 Ray Prasad will be teaching his flagship SMT course: