Problems and Promises of BTCs: Bottom Termination Components
What are bottom termination components (BTCs)? You may not know the term BTC, but expect to hear about them, since IPC has focused on this package. IPC coined the term BTC for industry-descriptive package names such as QFN, DFN, SON, LGA, MLP, etc. They are in some ways similar to BGAs, which also have hidden terminations. Differences abound, as they do not have balls but just metalized terminations or pads under the package.
Most but not all of the BTC packages have a large ground or power termination surrounded by smaller signal terminations. When it comes to inspection, they pose a larger challenge than BGAs, which allow inspection by endoscopes. You may or may not be able to see side solder fillets. Even when they are visible, they may look non-wetted or dewetted, but dewetted and non-wetted side fillets in BTCs are acceptable.
BTCs provide good electrical and thermal performance and they are generally the cheapest package available. It does require perfection on the assembler's part - in the assembly processes and from PCB and component suppliers. They need to supply near-perfect flat PCBs and packages.
You can certainly guess the chances of getting perfect PCBs and packages - not very high. We have been using thru-hole components for more than half a century, but are still far from achieving perfection. So you don't expect to achieve nirvana when it comes to this latest package trend, the BTCs.
The basic driver for BTC adoption is cost, which can be as low as half a cent per pin. This renders BTC packages especially attractive for high-volume applications such as cell phones or other mobile products.
Designers also love this package type since there are no leads, giving BTCs very low resistance and capacitance, also known as parasitic losses. Heat transfer from the package to the PCBs is excellent due to the large thermal pad in direct contact with the board.
With this package, there is no room for mistakes, or yield will suffer. Since there are no leads or balls, the package and PCB pads must be perfectly flat. How often does that happen?
The only controllable variable at the point of PCB assembly is solder paste thickness. If you use too much solder paste to compensate for package and PCB warpage, the package will float and may be misaligned. Also expect excessive voids with too much paste. If too little solder paste is applied, warpage in the package or PCB will lead to opens. The user must make some difficult choices in process selection. Inspection does not help here, since the end of the terminations that are visible are bare copper, not achieving side fillets.
IPC has stepped in to help the industry develop a design and assembly guideline for BTCs: IPC 7093, "Design and Assembly Process Implementation for Bottom Termination SMT Components," a group that I co-chair. The document describes the design and assembly challenges for implementing bottom-termination surface mount components with external connections comprised of metalized terminations that are an integral part of the component body. It focuses on critical design, assembly, inspection, repair, and reliability issues associated with BTCs.
The target audiences for this document are managers, design and process engineers, and operators and technicians who deal with the electronic design, assembly, inspection, and repair processes. The intent is to provide useful and practical information to those companies using or considering tin/lead, lead-free, or other forms of interconnection processes for assembly of BTC-type components.
"Design and Assembly Process Implementation for Bottom Termination SMT Components," although not a complete recipe, identifies many influential characteristics on robust and reliable assembly processes and provides upstream guidance for component suppliers. Information exchanges between the component supplier, product designer, and assembly personnel about parameters like warpage are more critical with BTC implementation than with any other surface mount part.
IPC is in the beginning stages of developing this document. Less than a year ago, I hosted the first working meeting here in Portland, OR, followed by another in Phoenix, AZ, in early 2009. Our next and the final working meeting is scheduled for July 27-28, 2009, in Portland. It is a good time to be in the American Northwest; if you are involved with BTCs and would like to participate in development of this document, please let me know. I am happy to extend the invitation and look forward to seeing you.
APPEARANCES:
Ray Prasad will be teaching in-depth SMT-BGA-BTC Design and Manufacturing and Lead-free Implementation courses in Portland, Ore., July 20-24, 2009. He also teaches on-site classes for companies. For details, log on to www.rayprasad.com.
Ray Prasad is an SMT Editorial Advisory Board member, author of the textbook Surface Mount Technology: Principles and Practice, and founder of the Ray Prasad Consultancy Group. Contact him at 12945 SW Glen Oak Place Beaverton, OR 97007; (503) 628-1199; Fax: (503) 628-3399; smtsolver@rayprasad.com; www.rayprasad.com.
Read Prasad's recent articles: Selection Criteria for SMT Placement Equipment Moisture Sensitivity Concerns in PCBs for Lead-free Assemblies Tin/Copper Alloys for Lead-free Reflow?
See this recent two-part article on QFNs as well: Design, Manufacturing, and Reliability Challenges With QFNs, Part I and Part II.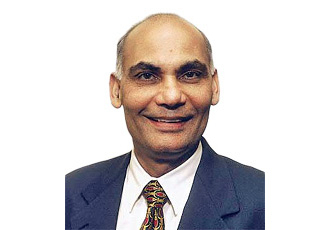 Ray Prasad will be teaching his flagship SMT course: