Five-Phase Factory and Process Audits
The objective of most audits is process improvement. However, there are other reasons for doing an audit, such as subcontractor selection and merger or acquisition analysis. Ray Prasad, with more than 20 years of experience in Surface Mount and related technologies, has audited numerous OEM and subcontractor assembly sites. Our in-depth understanding of process and audit methodology assures you immediate feedback so that you can enjoy the benefits of quality improvement and cost reduction. Audits generally take 3-5 days depending upon the number of SMT lines, process complexities, and your objectives for the audit. This outline summarizes the five phases of our methodology.
1. Preparation for Site Visit
Before the visit, a teleconference is held with manufacturing and engineering management to understand product characteristics and the types of equipment and processes being used and to agree on the specific objectives of the audit. After the teleconference, the client is sent a very detailed questionnaire to be filled out before our visit. The questionnaire focuses on four major areas: business (including customer satisfaction), technology, manufacturing and quality. Examples of questions can be found in Section 2.4.6 in Chapter 2 of Surface Mount Technology: Principles and Practice.
2. Site Visit
Whenever possible answers to the questionaire are reviewed before the visit and a detailed agenda is agreed upon before the visit. The first day starts with reviewing the major objectives of the audit with the management personnel responsible for asking for the audit. Then two-three days are spent on a factory tour and one-on-one interviews with key personnel in CAD and Circuit design, Manufacturing, Quality, Purchasing, Test, Customer Service, and Purchasing. The interviews generally begin after the factory tour.
3. Design and Process Evaluation
During the interviews and factory tour we evaluate design (for manufacturability), process documents and quality data. We critically examine all major process steps such as adhesive dispensing, paste printing, pick and place, reflow, wave soldering, inspection and repair. Incoming material (adhesive, paste, board solderability etc) quality control practices are also reviewed. We also look into your operator and engineering training material and practices. At least half a day is spent touring the factory unaccompanied by anyone in order to talk openly and freely to operators and inspectors. Extreme care is taken to ensure that production is not disturbed. If requested by management, customers and suppliers are also contacted on the phone for open and honest feedback on quality and delivery issues.
4. Observations and Recommendations
About one day is needed to preparing a detailed presentation on the findings of the audit. On the last day a PowerPoint presentation is made to management and invited personnel (generally those who were interviewed). The presentation lasts 3 to 4 hours and allows enough time for interactive discussion. The presentation focuses on two major areas. First it details findings on various areas of investigation. It essentially represents a bill of health for the facility with strengths and weaknesses. The second part of the presentation makes specific recommendations for improvement. The key objectives of the recommendations are to achieve high quality, reduce rework and lower product cost. The recommendations include step by step action items and realistic time frame to accomplish them.
5. Formal Written Report
If required, a written report will also be provided. Follow up visits or teleconferences may be necessary in some cases before writing the report. The written report typically can be available 2-3 weeks after the on-site review.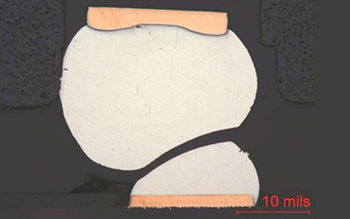 Ray Prasad will be teaching his flagship SMT course: