Surface Mount Technology - Preface
Surface mount technology (SMT) is not a technology of tomorrow but a technology of today which makes it possible to produce state-of-the-art miniaturized electronic products. Although SMT is a mature technology, it is also constantly evolving. This is evidenced by the increasing popularity of relatively newer packages, such as fine pitch, ball grid array (BGA), and chip scale packaging (CSP).
As widespread as SMT is today, getting decent yield in products using SMT can be a frustrating experience if one goes about SMT implementation by trial and error. In order to take advantage of this technology, a complete SMT infrastructure must be put in place. This requires not only investment in capital equipment but also considerable investment in human resources and company-specific documentation. Most companies make the capital investment, but only a very few invest in the training and documentation that are the backbone of a strong internal SMT infrastructure.
Leading companies such as Intel, my most recent employer, have made the needed investment to create a strong internal infrastructure and keep their customers on the leading edge of technology. Intel is known for the worldwide dominance of its microprocessors, but fewer people know that Intel is a leading turn-key supplier of personal computers (PCs) for many large OEMs (original equipment manufacturers). Intel is a dominant supplier of not only the computer inside but the computer outside as well.
Who is responsible for putting the SMT infrastructure, external (generally standards) and internal, in place? In addition to the industry organizations such as the Institute of Interconnecting and Packaging Electronic Circuits (IPC), the Electronics Industries Association (EIA), and the Surface Mount Council, it requires the active support of universities (for training future engineers), company management, and practicing engineers.
This book is an attempt to meet the needs of this varied audience. In addition to its use by the universities as a textbook for courses on packaging in general and SMT design and manufacturing in particular, managers can use the information to manage the risk in SMT implementation to achieve their goal of faster time to market, higher yield, and lower cost. Practicing engineers can use this book to solve (and prevent) day-to-day design and manufacturing problems.
To accomplish these challenging objectives, I have not only culled information from published materials, I have also depended on input from my colleagues and such industry organizations as the IPC, the EIA, and the Surface Mount Council. But the underlying basis for this book has been my firsthand experiences in implementing this technology at various companies, including Boeing, Intel, and many client companies (I have been a consultant since 1994).
In a fast-changing technology like SMT, it is very easy for information to become obsolete even before a book is published. For this reason, I have concentrated on the basic principles and practice of SMT. Formulas and theories are discussed where necessary to give a better understanding of the subject. Very little emphasis is given to the details of manufacturing equipment because they are constantly changing. Instead, emphasis is placed on non-equipment-dependent materials and process variables that control manufacturing yield. However, Appendix B does provide equipment selection criteria that I believe will always be valid.
The book is divided into three parts. The first part gives an overview of the technology including emerging technologies such as chip-on-board (COB) and multichip modules (MCM). I also discuss the inherent technical and risk management issues that must be addressed for an effective implementation of SMT, either in-house or at a subcontractor. Since there is a major trend towards outsourcing, Chapter 2 provides a detailed discussion of criteria for selection of an outside SMT assembly subcontractor to meet the specific needs of an OEM.
The second part of the book focuses on the SMT components, including fine pitch and BGA. Here let me say a few words about BGA. Looking at various conference programs and industry literature, one might get a distinct impression that BGA is a technology separate from SMT. I do not consider it as such. In this book BGA is treated as just another surface mount component with some unique features and issues. Hence BGA-specific issues are addressed throughout this book in the applicable chapters. Otherwise all the process parameters equally apply to BGA. In the second part I also cover substrate fabrication, surface finish, solder mask requirements, and design issues such as land pattern design and design for manufacturability critical for producing cost-effective surface mount assemblies. Readers will find practical information on design for manufacturability with reasons behind each of the guidelines. It is my aim that if the reasons change with the passage of time, the reader can make a determination about the validity of those guidelines and can use the basic concepts even if a great change in the technology occurs.
The third part of the book covers SMT materials and manufacturing process issues. It is not enough to design the product for manufacturability. There are two other major areas that control product cost and yield. They are SMT materials such as adhesives, solder paste, and flux, and manufacturing processes such as printing, placement, reflow and wave soldering, cleaning, including no-clean, and statistical process control. These subjects take up the second half of the book and are covered in great detail.
Even if the design is right, and the materials and processes are properly controlled, there will be some variation in the quality of the product. And there will be some defects that require rework. Why? The industry has not been able to achieve zero defect in through-hole technology even after decades of effort. SMT, or any technology, is not perfect. So the third part of this book also covers the non-value-added process steps such as test, workmanship, inspection, and rework.
Writing and revising this book has been more of a challenge than I originally imagined, but it has been a very educational experience for me. It is my hope that this book will make a useful contribution to a better and balanced understanding of this technology and its proliferation and will play some role, minor as it may be, in building a strong external and internal SMT infrastructure.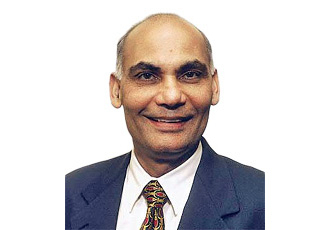 Ray Prasad will be teaching his flagship SMT course: