Testimonials
Joseph Fjelstad President and Founder, Verdant Electronics, Inc.
I have had the pleasure and privilege of knowning Ray and being able to call him friend for more than than 30 years. Ray was one of the pioneers of surface mount technology and wrote one of the first books on the topic which has served as a guide for countelss individuals in the electronics manufacturing industry ever since. Ray has also gifted the industry with participation in SMT standards development in various IPC committees and his conculting and seminars on the technology which he helped nurture from its infancy and grow into the indispensible technology on which modern electronics are founded. It is with great pleasure that I give Ray my highest recommend.
George Westby, Chief Technology Officer, Universal Instruments
I have had the opportunity to work with Ray on a number of occasions over he past several years and have found him to be an excellent resource for the SMT Assembly process. His depth of knowledge rests in his long history with SMT and his natural intellectual curosity. I definately recommend Ray a resource for process implementation and trouble shooting.
Salman Akhtar, Process Engineering Manager, GE Healthcare
I have had the pleasure of working with Ray on multiple occasions over the last 10 years. This has included two key areas: teaching and process consulting. Having attended several of his classes and hiring him to create multiple customized training classes for my teams, I recommend him to anyone considering a need to improve technical skills within the team. He is an excellent teacher who is able to bring his in-depth practical knowledge to the class and help the students solve the issues they are facing. Additionally, I have also hired him as a consultant to help me find solutions to some of the most challenging technical problems in electronics manufacturing. I would recommend him to anyone looking to make significant improvements in electronics manufacturing quality levels -- internally or at a CM. He can help in finding the root cause of problems you may be facing. Additionally, he can help train the team so his services are required only for the toughest problems. His strong technical and communication skills make him invaluable in many situations.
Rick Brown, Director of Engineering Services, Sigmatron International
I have had the honor of working with Mr. Ray Prasad at an EMS company in Acuna Mexico. Mr. Prasad was instrumental in the training, setup and validation of a new Lead Free SMT process and provided valuable insight and metallurgical knowledge to the manufacturing team. I have used Mr. Prasadís book, Surface Mount Technology, Principles and Practice as a must read training aid for design, process and manufacturing engineers.
Werner Engelmaier, Engelmaier and Associates & Chairman IPC Product Reliability Committee.
Ray has been instrumental in helping his industry clients implement Surface Mount Technology. His book is an industry 'bible;' and he transmits his expertise in the many workshops he gives to industry workers. Ray has chaired committees and contributed greatly to a large number of IPC industry documents and standards.
Alvin Kevichusa, Manufacturing Engineer, Universal Avionics
Ray is a leading authority on surface mount technology. His books and articles are incisive and to the point. Academic knowledge entwined with on-the-floor experience makes for the full package. If you have a sticky problem in your electronics manufacturing, call Ray. He will set you back on track.
Susan Filz as Director of Industry Programs and Professional Development at IPC-Association Connecting Electronics Industries
Ray is a wonderful instructor who brings real experiences to the classroom. He is an important part of our IPC EMS Program Manager Training and Certification Program. Every year at our IPC APEX EXPO, his workshops are always the most highly attended.
Paul Jaussi , Manufacturing Engineering Manager, BiAmp Systems
Ray Prasad is an excellent trainer and educator in the electronics assembly field. I have had the opportunitiy to both take classes from and also assign employees to take classes from Ray. He is knowledgeable and can communicate that knowledge in an effective manner. He has also consulted us on technology strategies in electronics assembly. He has saved us significant time and resources with his recommendations.
Ruben Figueroa, Territory Sales Manager, Central Region, Invensys Eurotherm
Ray Prasad is an extremely knowledgable SMT process expert. He has provided in depth process training to many of my colleagues in their facilities or at many trade shows. In many cases, he has been searched out because of his expertise prevalent in the trade magazines. Ray can provide a custom presentation directed at your specific situation, or a general overall training.
Leo Lambert, Vice President/Technical Dir. at EPTAC Corp
I've known Ray for over 30 years and he has always been one of the go to persons in the industry for surface mount processes and components. His involvement within the industry has alway been exemplary and he is regarded as one of the industrial leaders in the electronics assembly. Ray is a straightforward individuals who is willing to help at anytimes to help solve manufacturing process problem. I highly recommend Ray for his work and his friendship.
Terry Jeglum, Owner, Electronic Technology Corporation
I am writing in enthusiastic support of Ray Prasad for his leadership in the worldwide expertise in Surface Mount Technology (SMT). I have known Ray Prasad since he was SMT Mgr. at Intel. Ray has distinguished himself in the highest esteem in the discipline. But this accomplishment only scratches the surface of his ability and character. Ray is the type of person who loves learning. Heís one of those rare people who works very hard and diligently, but does so with a smile on his face. He constantly strives for excellence in SMT implementation, but Ray does not let his thirst for knowledge rule his life. He is a scientific humanist, with a genuine caring for others. It should come as no surprise that Ray is well-liked and admired by his peers.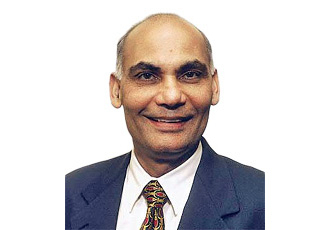 Ray Prasad will be teaching his flagship SMT course: